Cold, wet and hungry – that's the fate that awaits animals every monsoon. Any food that they find is more often than not spoiled. All the water around them is dirty and contaminated.
They never had a home to go to anyways, but now even the footpaths they used to curl up on will turn into a massive puddle.
The long months of monsoons are coming and AMTM is on a mission to build a rain-proof facility to take in animals. We're raising funds to purchase materials, and get the facility up and running. Please help us keep our animals warm, dry, and safe.
Undergoing Treatment
Ginny was left completely paralyzed after being in a car accident. This tiny kitten is trying her best to survive but desperately needs your help. This brave girl needs funds for her treatment and recovery. Please donate.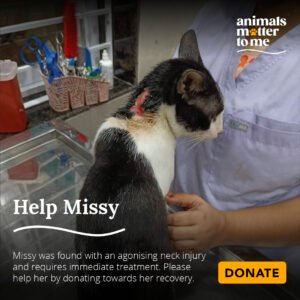 Undergoing Treatment
Missy was admitted to our hospital with a wound on her neck and requires immediate treatment. She is braving the pain but needs your help to recover. Please donate towards Missy's treatment and care.
Undergoing Treatment
Bosco was found with a swollen, bleeding, maggot-infested wound on his leg. He has been admitted to our hospital and is currently receiving medical attention. Please help Bosco get better by donating towards his recovery.
Thanks to your generous contributions, our new AMTM hospital is open now! The building is yet to be equipped with a few medical apparatuses, kitchen appliances, and infra facilities.
Do consider contributing to help us realize our dream project
A Bed In Need Is A Friend Indeed
AMTM is procuring beds for the animals at the shelter. A total of 30 small, 90 medium and 30 large-sized beds will be purchased.
Your contribution will help animals sleep better and live healthy lives.
Animal care, tips and more on our blog
Internal parasites can cause a lot of health-related issues in pets. Here are some facts you need to know about these uninvited intruders and how deworming helps get rid of them.
We've all seen dogs pant often, but have you ever wondered why? Here's a primer:
Having a pet can help us live longer, happier, and healthier lives. From reducing the risk of heart attacks to alleviating loneliness, the benefits of having pets are plentiful.
Animals Matters to Me (AMTM) is a clinical rescue facility for strays & abandoned ownerless animals, birds & reptiles in need of help. We run a shelter cum hospital in Malad, Mumbai and offer services of Adoption, Animal Shelter, Medical Treatment, Sterilisation & Animal Ambulance
No amount is too small. It goes a long way to help animals at the rehab centre
A few hours a week with the animals means the world to them, not to mention , the memories that will stay with you for a lifetime.
Don't buy or breed animals while there are many animals deprived of a good home. Come visit us &  you might just meet your soulmate.